For Patricia Prime, the owner of Peach County, Georgia based Prime Baby Time Consulting LLC., the maternal mortality crisis in her state can no longer be overlooked and is shaping every aspect of her work.
Prime, 56, of Bryon, Ga, has been a Registered Nurse for the past 29 years and a CAPPA Certified Postpartum Doula. She is also a Certified Lactation Counselor, Certified Passenger Safety Technician and a New Parent Educator. She is profoundly aware of the current crisis that Black moms are 3 to 4 times more likely to die from pregnancy or childbirth-related causes than white mothers.
"It's been weighing really heavy on me about how moms and babies are dying in childbirth and within the first year after having a baby," said Prime. "My goal has become to support one mom, one baby, even if one at a time."
The past pandemic year has necessitated a shift for doulas to switch to virtual services to support their clients. Not all doulas were able to make the transition right away either for personal reasons (theirs and their clients) or a scarcity of resources such as no access to Wi-Fi and other devices. Even learning what the best virtual platform or app to use proved daunting to some.
The lack of in-person outreach and accessibility into family's homes proved to be one of the biggest setbacks for Prime. These setbacks have since led to significant changes in her life and new opportunities for Prime and her postpartum work.
In March, Prime resigned from her nursing position at Robins Air Force Base where she worked for several years within the New Parent Support Program. She is also in the process of earning her Master's Degree in Business which she perceives will be influential to the future of her postpartum doula business.
We've asked Patricia Prime to share a little more about what CAPPA and birth work mean to her, what her journey has been like as a Registered Nurse and doula, the challenges for both her and the families she supports, being a postpartum doula during the pandemic and what inspires her to continue serving as a Certified Postpartum doula in 2021.

CAPPA: You've worked so many years as a Registered Nurse. What prompted your decision to stop working as an RN and leave Robins AFB this Spring?
Patricia Prime: I couldn't give the time to what I wanted to do. With Covid last year, I definitely couldn't get into the homes of families. I knew that if I couldn't get into the home I knew who could; a postpartum doula. So there are three people on my mind that I have thought about. I can educate mom who is expecting, I can educate the person who is supporting that mom or I can educate someone who knows a mom or knows someone who is supporting a mom. […] One of the things that working with moms over the years has taught me that nursing school had not is to listen to your gut.
CAPPA: When did you start working with mothers?
PP: I started working with expecting teens in 2003 [as a nurse visitor] with the Nurse-Family Partnership Program in Georgia. [The program is implemented under the Great start Georgia system, which works to coordinate and facilitate a range of early childhood programs and services.] From there, I went to Robins AFB and started with the New Parent Support Program servicing military families with children under 3-years-old. In 2012, I became a supervisor with the Houston County Health Department and led the Nurse-Family Partnership Program.
Although she liked being a supervisor, Prime said she missed working with families. Once another position opened in 2015 at Robins Air Force Base for the New Parent Support Program that she had worked with before she applied. Prime got the job and started to support military families once again. As a military wife herself and mother of 3, Prime empathized with several military spouses who she frequently visited.

CAPPA: What types of things did you do with the New Parent Support Program?
PP: That's when I noticed families struggling when they got home. I was able to be a support for them providing lactation support and just giving basic advice to help them get comfortable with being a new parent. In my role within the new parent support program, I would tell families you don't have to participate in the program, but you can call us and ask a question. Our agency was [viewed as a resource when there was abuse or] mal-treatment in the home. There was a stigma which is partially why we didn't get all the clients that we were supposed to. Or, if some families didn't know that we existed at all! So people were afraid to contact us because they didn't want it to get back to their spouse or to other people who might judge them for seeking help. I told families that we were strictly prevention. We were teachers and they could come to us for support. If the mom was severely depressed and if there were more serious underlying issues, we would refer them to someplace else to get help. In seeing that side of life that's when I started to reach out to people in my church who were pregnant. But I never advertised myself as a postpartum doula with my military families. I wanted them to know that they didn't have to do this alone.
CAPPA: What was your own postpartum experience like?
PP: I didn't get any of this new parent support when I had my children. It didn't exist yet. But I wish this was around then because I remember those days and I remember when my mother-in-law had to go back home. My husband Edwin was never deployed when he was in the Air Force but I was home by myself sometimes and it was hard. We have three adult daughters now, Autrela, Samantha and Edwinae'. You kept everything in, you didn't reach out to an agency for support. That's a military culture.
CAPPA: Military families face some unique stressors in parenting that not many people understand unless you're in the military. With you combined experience of being married to someone who was once active duty, raising your own children and working with military families with young children, what would you say are some of the biggest challenges for parents?
PP: Loneliness. Because a lot of their families are not able to come to them when they deliver. They do get time at home but it's short. Then there's deployment, and that's huge. If they had to relocate and move to a new area, they'd have to reestablish a home base and familiarize themselves with different people and hospitals and that is a struggle. It's very important for a mom to make that connection with other moms or people when they're pregnant so that they can have a good support system. Because [military families] are very close-knit, if there is something happening postpartum and they're struggling they are less likely to reach out for (professional) help for fear of getting their spouse in trouble. What I have found, is that they try to handle it within their circles but a lot of times [their problems are much greater] and by the time we (registered nurse professionals) see them it could be too late. They may need to be referred to therapy for experiencing a perinatal mood disorder, they may need hospitalization or further support.
CAPPA: What was your experience like working with teens early in your nursing career?
PP: When I worked with teens that was actually my first time working with that high-risk population. I was pretty green (immature in the field) and did not know anything about the postpartum doula world at that time. Their struggles varied from having to deal with finishing school, parenting and self-efficacy. I did spend time trying to educate them on the importance of staying in school, continuing with a higher level of education or getting a job so they could care for their child. I focused on goal settings, things small enough that they could see themselves completing. I wanted them to see themselves achieve things and in turn help their children do the same thing. But my working with them did not play a role in becoming a doula.
CAPPA: What was the turning point for you when you decided to become a full-time Certified Postpartum Doula?
PP: Initially I was having people from my church reach out to me about the pregnancy stage and what to do. Which made me go search for postpartum health on the Internet. That was the first thing that got me there. But now the turning point is, it just had to be done. I believe it's a calling and I can't keep running from it. Everything that I have done this far has contributed to it, but it really has started to come full circle now. It doesn't look the way that I want it to—yet. You know, as a mom, leaving a fulltime job where you are used to receiving a paycheck twice a month and then going to a job where you hope someone will give you a check is a big leap. So I was really scared and wondering, is this something that I should be doing or am I just making this up in my head? And God started showing me stuff. I took a leap of faith and my husband was very supportive. He is my biggest cheerleader, so I'm doing it. I'm jumping all in!
CAPPA: What do you love most about being a postpartum doula?
PP: I think it has a lot to do with bonding and connecting with mom and baby. There's just something I love about mom and baby which also led me to become a certified lactation counselor. […] As moms, [there is this idea that] we are supposed to know it all, do it all, and we're supposed to know what we are doing. Anything short of that you think you are weak. I knew the ladies in my church were not going to reach out for help. So me being so passionate I just called anyone from my church who was pregnant and I started passing out my phone number. I didn't ask them if they wanted something to eat, I just took them something to eat. I didn't ask how is sleeping going, I'd say, last night did you get any help during the night? I'd ask them how they were feeling. Some would appear stern about how they were feeling and not open up, but they have since told me that now they realize that they needed that support. When I was with a mom during those times they never said 'Pat I'm so glad you are here.'
Since becoming more active on social media these past few months during the pandemic, Prime said several women who she helped support as a postpartum doula pre-pandemic have started to express not only their gratitude for her help, but also corel draw x5 keygen generator admitting that they needed help at that time. Prime recalls how difficult it was sometimes to make connections with new mothers from her church for various reasons. But that didn't stop her from trying.    
"I think that is something that I am gifted in and I won't stop avast pro activation code 2017 doing that. I'm hearing way too many stories of someone struggling after they had a baby and they don't have to do that by themselves," Prime said.
CAPPA: What made you choose to certify with CAPPA?
PP: I believe CAPPA chose me. Someone from my church called me when she became pregnant asking if I could assist her with the pregnancy and afterwards. She lived near me at the time and when she called she said, "I know nothing about having a baby or being pregnant. Can I hire you and how much do you charge?" Let's just meet I told her. She and I had lunch one Sunday after church and we talked about what to expect when she goes into labor and breastfeeding. We just talked on forever as if we weren't going to talk again. We were just in it. I didn't see her again in her pregnancy after that day because her husband got a job out of state and she moved. But she did call me sometime after she had her baby to tell me that she remembered everything that I said and that she had no issues with breastfeeding. She was so thankful for the information. She sought me out a lot after her baby was born with feeding, food allergies, skin irritations and things like that. I had never heard of a postpartum doula before I met [this new mom] so I started Googling words that fit that category and up popped CAPPA and the Certified Postpartum Doula program. From there I reached out to Margi Saxton [CAPPA's postpartum faculty member and trainer for Georgia] and the rest is history. I took the training when she was close to my area.
CAPPA: How did you feel when that mom reached out to you after her baby was born and told you she remembered what you taught her?
PP: To me it reinforced what I was doing. It made me realized I need to keep going because postpartum recovery is a time that a lot of people just don't talk about or know about.
CAPPA: How did you get your first postpartum client and can you tell me a little bit about what that experience was like for you? What types of things did you help them with?
Trigger warning, this content includes information about stillbirth, infant loss and death.
PP: A lot of focus is placed on pregnancy, baby showers, ultrasound appointments, etc. Mothers are really excited for baby but when they get home they struggle because they're sleepy, emotional, hungry and they don't feel like cooking food. Or there are other layers. So once I started reaching out to women in my church I started to get some calls. I had a single mom [shortly before the pandemic hit] contact me who had a baby boy. This mother had several miscarriages in the past including a stillbirth before the birth of this baby boy. She was an active duty military who had gone on a deployment. She was very close with her mom and spoke to her before coming back home. When she returned home, she learned that her mother had [passed away]. Over the next five months, that mother also lost two other important family members, her grandma and her uncle. At this time, she found out she was pregnant, but she dismissed it because she thought it was going to be another miscarriage. So she dealt with her losses but still continued to stay pregnant. However she never dealt with the grief. Her mom was there for everything, including all her miscarriages. She delivered her baby by herself at the hospital. I came to see her after the baby was born. We worked on breastfeeding, sleep, respite care, nutrition and I taught her some skills on how to get baby to sleep for longer periods of time. We did mostly phone calls but there were a couple times where we had home visits. Sometimes we would meet halfway and have conversations with each other from our cars because we couldn't meet in-person due to the pandemic.
CAPPA: What have been some of your biggest challenges over the past year of the pandemic? Have you made any changes to your business or in the way you support families such as virtual services?
PP: I really struggled at my New Parent Support work. I'm a people person. I love being around people. I'm told that my laugh is infectious. I love to have fun. So when Covid happened we had to keep our office doors closed. We couldn't be free to roam in the hallway let alone see a patient. So I'm talking to families over the phone and you just feel like you're missing something because you can't see them. I could only help people over the phone and it has gone well but nothing is like face to face. Covid really has put a damper on what I feel like I'm supposed to be doing. But I truly feel that I'm adjusting.

I'm coming into virtual services a little later [compared to doulas who made the switch early on in the pandemic] because I thought this was something that would go away, and it hasn't. So I'm changing my focus and I do phone calls, virtual consults and I have become friends with people over social media to stay in contact with moms. As a registered nurse, that's something that I wouldn't do but with Covid it was the only way. I really try to keep those boundaries clear. My personal life is my personal life and what I do on social media I don't involve clients that I work with. But becoming friends with [mothers] was the only way that I was able to see some of my clients so I can see their children growing and see their day to day.
CAPPA: It can be tricky when you have more than one certification/licensure to stay within scope of practice for the area you are working. How has your experience as a registered nurse helped you with postpartum doula work and in what ways has it been a challenge?
PP: A lot of focus is placed on pregnancy, baby showers, ultrasound appointments and things like that. Mothers are really excited for baby but when they get home they struggle because they're sleepy, emotional, hungry and they don't feel like cooking food. In my job, [as a registered nurse], I couldn't provide those things to them, only emotional support. […] There's so many things that I know as a registered nurse and lactation counselor for example but I have to [be careful] so that I stay within my scope. If a mom is describing to me how her breast feels when trying to nurse her baby or if I see pain in her face and her tensing up when she goes to feed her baby, the postpartum doula and lactation counselor in me wants to help her. But as the parent educator or family advocacy nurse, I end up talking to them about it and then encourage them to call their provider.

It's a struggle too because some people don't want to talk about things that they are going through because they are afraid to let someone know that they are vulnerable. I know what that looks and feels like and to not have that support can be a struggle. Postpartum doulas can help alleviate a lot of guilt, shame, hurt, depression, anxiety, all of these things that someone might experience after having a baby. There's such a fine line between what I was doing as a family advocacy nurse and a postpartum doula. As a nurse, I'm providing education to these families and I couldn't do postpartum stuff. I could talk about it and give them some tips but I couldn't go in and say, 'Ok mom, why don't you go take a nap or let me prepare you a meal? Or, go take a shower while I watch your baby.' I couldn't do stuff like that. I had to make a decision and I believe that I made the right one.
CAPPA: Have you found any ways to become more involved again within your community and to market yourself?
PP: I've been able to do some community outreach this year and I am learning how to get my name and my face out there so I can start getting the work done. I've been able to collaborate with other doula agencies within our community and provide my marketing materials. For example, I've done a food drive for church where they had a resource fair and I was able to have a table and provide information about what I do and I passed out fliers. I participated in a car seat inspection event and I wore a T-shirt that had all my titles on it and my business logo. I am also planning to participate in a Back To School Bash [in my community] where I will hand out school supplies that have my business name on the products. I have also been on social media more and started posting about what doulas do and what we provide for families. I am currently practicing making some educational videos to share in the future [with the public.]
CAPPA: Doulas say helping their clients advocate for themselves throughout pregnancy and delivery can make a major difference in birth outcomes. You mentioned your new mission statement about supporting 'One Mom, One Baby, even for One at a Time.' What steps have you taken so far to model your goal?
PP: I shared a document with a colleague to look over some information that I wanted to include on a slideshow presentation to share with postpartum moms. [This colleague] is now in a new position and a woman at her job had a baby in December and came back to work here months later. The woman who had a baby told Prime's friend that she was going to leave work early to go home because her back was bothering her. She also described that she had been feeling kind of out of it and just not feeling like herself. [The colleague] who read my notes, she knew that this lady had a baby so she started asking more questions about her symptoms. She learned that the mother had a baby, caught Covid-19 shortly after and then caught pneumonia. The new mom said she was planning on seeing a chiropractor but [the colleague] encouraged the new mom to follow up with her provider first. My [former colleague] remembered the information that she read in my notes about maternal deaths, so she knew to ask this mom about her symptoms and whether she started to experience the symptoms before or after she had her baby. She knew to ask her the right questions. And she instructed the new mom to make an appointment with her doctor and to make sure the first thing she told them was 'I had a baby three months ago.' It's important that she mention the baby first so that when they start to treat her they'll know what other contributing factors could be causing these symptoms. The new mom doesn't need to call and say that my back is hurting because it could be two weeks out before they can see her.

When [my colleague] told me this, I knew that had she not read my [presentation notes] she would not have thought pregnancy would have been an issue, but it could be. I was really glad to heart that she took what I am trying to teach and she is now using it among her employees at her job. That's huge! That's how important I think this is. If I can just save one mom, I would feel that what I have done is worth it.
CAPPA: When you have a doula business, it's not uncommon to have busy periods and lulls, and sometimes when the dip happens, it's difficult to know what to do. How do you stay motivated?
PP: I have a board of pictures and cards that used to hang in my office but now needs to find a place in my home. It's filled with thank you letters from people who may have just picked up on one thing from me or something that God allowed me to say to them during a visit. Those are my motivators. That's what I look at when I get discouraged. I see the success like I see it. Something that I keep in front of me.

I save notes from everyone! One note in particular, comes from a mom I helped once during a visit and I asked her 'What are you feeling right now?' The mom said to me, "I wish he [her baby] would stop crying, go to sleep and not wake up." She was having suicidal thoughts and she thought that he would be better off without her. So we got to talking and she got help. She got on medication and she even went on to have another baby. But when I read her card she wrote, "I shudder to think that I would not have been here had you not been there for me in my life that day." It brought tears to my eyes because I did not know she was suicidal at the time I met her and spoke with her. When I hear stuff like that, they're motivators and something that keeps me pushing forward. I don't know it all, but I feel like I am good at what I know.
CAPPA: Do you have any advice for someone who is considering becoming a postpartum doula or postpartum doulas who are currently in the process of earning their certifications?
PP: What covid has done for me is created this now or never mindset. I think if you have a desire to do something or a passion or a calling to do something, if you seek God and that's in your will, I think you should just do it. When I told the people at my work that I was resigning the first thing I said was, 'I'm going home. I'm going to work this business.' I knew there was something more for me to do. I know that I am supposed to be here, but I'm scared. I think people really want to follow their passions but they are scared. Just do a little bit of it at a time. You may not have to quit your job but take a tiny step and then a larger step later. You can't keep sitting on that call or else you will be miserable. Fear brings torment and it paralyzes you. You can keep moving forward scared and come out alright like being in a Haunted House. You're scared but you keep moving forward towards the way out [when you are out of that terrifying place.] […] When I first became a nurse visitor I was terrified to do home visits with someone who was expecting a baby and to teach. That was not how nursing was taught to me and to do a nurse's job in someone's home was new to me. But look what came from it.
CAPPA: What are you most looking forward to in 2021?
PP: I feel like my day will come and it will be like a flood. I'm meeting more doulas. I am collaborating with doulas. I really feel like that day will come when doula work will all that I will be able to do. And if I get to a point where it becomes too much for me, I would have built up a village behind me so that moms can get the resources they need within the community. I'm also looking forward to Baby Time Consulting will be an agency that provides services to all moms in every area that they need it. Pregnancy, delivery, postpartum and parenting education. I truly believe that that is going to happen someday.
---
About the Author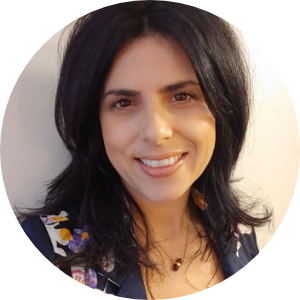 I'm a Certified CAPPA Labor Doula, trained CAPPA Postpartum Doula and a trained CAPPA Lactation Educator. I am a stay at home mother of three (9,7,4) who recently moved from our home in Santa Clarita, California to Atlanta, Ga.
Birth work wasn't always my calling. In fact, growing up I was quite terrified of birth because my mother had a traumatic birth experience and I thought that I was going to have the same experience. (I did not) But I did earn my Bachelor's Degree in Journalism from California State University, Northridge and spent several years working as a journalist and breaking news reporter writing for several publications in California and Boston, MA. I love the excitement of chasing a down a good news story, learning new things everyday and speaking to people in the community.