CAPPA (Childbirth and Postpartum Professional Association) is an international certification organization for Doulas, Childbirth Educators, and Lactation Educators.
Since our foundation in 1998, we have certified thousands of perinatal professionals.
As one of the first and most comprehensive perinatal organizations in the world, CAPPA is respected for its longevity and its commitment to excellence in both education and unsurpassed student and member support.
Choosing an organization for your education is an important decision. CAPPA offers the stability that you can be confident in as you invest in your education and career.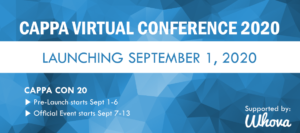 You are invited to join us for a Virtual Conference kicking off September 1-13, 2020! This is the event where all our members from across the globe come to have fun, learn and grow!  We have a great lineup of speakers, including many returning favorites, some new voices, and top experts in the field! This event is online and can be attended anywhere as long as you have a mobile device/computer and reliable Internet connection. Find out more on our event page!
Learn More
Latest from the CAPPA Blog

One BILLION users!  That is the number of people using Instagram.  Approximately 60% of those users are aged 18-29 and are heavily […]
Continue reading...