Traditionally the scope of practice for doula support whether prenatal, labor or postpartum has been emotional, physical and educational support for mom and her family. "Mothering the mother" is an outstanding obligation giving women among other things a voice, empowerment and education assisting them in having the best birth outcomes possible.  How would birth outcomes change for mom and baby if dads received an extensive level of paternal care themselves?
In our efforts to combat maternal mortality and morbidity how much more could we be supporting moms by supporting dads.  Are we leaving dads and the non-birthing parent unprepared to manage the responsibility of mom's emotional, physical and psychosocial return to her pre-pregnancy state? What about the return of the non-birthing parent and the father to their pre-parental state? What does that look like?
As family dynamics have changed and continue to change their inevitably must be a shift in the culture, of doula practice that is more inclusive of fathers and non-birthing parents.  For the purpose of this blog I want to share my experiences in working with fathers specifically, not as an expert on this topic, rather an observer of a necessary change in the philosophy of doula practice.
Research says that approximately 10% of men suffer from postpartum depression, what does that look like and can we as doulas recognize it?  Dr. Jason Baxter associate professor at Jefferson Hospital in Philadelphia stated in a house committee meeting on maternal mortality that "Often times the baby is treated like the candy that everyone wants, and the mother is the wrapper, once the baby is delivered the wrapper is tossed aside."  If providers, families and the village are treating moms this way where does dad fit in if at all?  We have all been exposed to this dynamic, providers that don't acknowledge fathers, fathers not fully prepared to support or care for the newborn or mom.  For decades the ball has been dropped in offering adequate paternal care for fathers with resources being limited and or not available to everyone if at all.
Once a month I have the pleasure of sitting in as a co-facilitator for a peer to peer Dad's Corner and Mom's Group.  These groups have taught me so much regarding the needs of men in their perinatal and postpartum journeys.  It is a safe space where men and their partners can share their personal experiences and get practical support from doulas, certified lactation counselors and human service professionals.  We discuss everything from physical and emotional changes to breastfeeding and postpartum depression.  These groups are rewarding encounters, where I witness families gain understanding, get healing and process their birth experiences.  As we begin to just scratch the surface in the concept of supporting new fathers extensively, I was moved to survey fathers regarding their birth and postpartum experiences.
Here is what dads want us to know as maternal health workers:
Dads are afraid of losing the mother and the child.
Dads are around mom more than anyone else.
Dads have no knowledge of maternal health care.
Dads want someone to teach them.
Dads want to be involved from the beginning.
Dads want someone to explain to them what the HELL is going on!
Dads get angry and aggressive because no one talks to them.
Dads are expected to protect the mom even though they don't know how to.
Dads need paternal care; it aids maternal care.
Dads are having a baby too.
Dads who experience death during birth need help getting through it successfully.
Dads go to work because they don't know what else to do.
Sometimes the first fragile thing dads have ever held is a baby.
Dads nest too, they get new jobs, fix the broken steps and move to better neighborhoods.
Dads need the support of other fathers to be successful.
What Dads Say We Should Do at Every Opportunity
Educate ourselves, conduct research and find more ways to support fathers
Examine our own perception of men as it relates to maternal health
Don't assume anything dad may be more open than you think
Don't just give them a pamphlet it is like reading a foreign language
Don't be sexist, men do more than lift heavy things and take out the trash
Know the audience, private practice support may look different than community doula support for dads
Offer relative practical support that dad can use in the moment
Make education for dad interactive, fun relative and interesting
Follow up with dad check in, with him and find resources specifically for him
Recently I sat across the table at a restaurant sharing my excitement and angst about blogging on this topic.  As I shared, the 60-year-old man across from me turned red and began to cry as he urged me to change the subject.  Realizing that the trauma this father had suffered 32 years ago at the loss of one of his newborn twins had returned and was just beneath the surface. I agreed to change the subject.
However, he could not stop talking, so, I reached across the table held his hand and assured him it was safe to talk about his experience and he did just that.  He shared how his son was diagnosed with trisomy, and he and his then wife knew three months prior to delivery that their baby would not survive long after birth.  This father motioned with his hands in public as he recalled how he held his son and rubbed his head while his short 24-hour life slipped away.  He discussed his struggles with not knowing if he did the right thing, not knowing what happened to his son after he passed away, there was no service, no social worker before or after delivery, just information and no space held to process the emotion until now.  His question was, "Did they just throw him away?"
Right there in public on February 14th my husband cried as he revisited the trauma of not only the grief and loss but the lack of support he should have received.  On his behalf and on behalf of the fathers we all will work with in the future we have a responsibility to examine the care we have provided for dads, collaborate to understand how we can do more and keep the conversation open because dads need doulas too.
---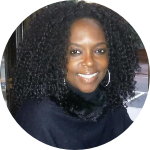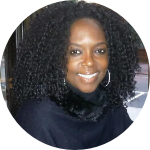 Karen Peterson
CPD
Karen is a certified postpartum doula, CLC and trained birth doula she holds a BSED from West Chester University and is the Founder of Women of Harmony Inc. Karen is committed to supporting women and families throughout their prenatal and postpartum experience. She works full-time as Program Director for the Pettaway Pursuit Foundation.