Sara Rogers
RN, BSN, Postpartum Doula
Services Offered:
Breastfeeding Support
,
Postpartum Support
,
Trained Postpartum Doula
Certifications:
Certified Postpartum Doula
Location:
Washington MI USA
---
Hi I'm Sara – Pediatric nurse turned full time wife and Mama and now adding Postpartum Doula to my list of loves!
Motherhood is the greatest role I ever have and ever will play in my life! Anyone who knows me knows that motherhood was my biggest dream in life from as long ago as I can remember. Our girls didn't come so easy to us as we needed fertility treatments to get pregnant with both – such a difficult time of fear and worry and my heart goes out to anyone who has struggled with fertility no matter how severe.  Our girl Eliana Grace rocked our world in the best way possible fulfilling my every dream in 2011.  Vivian, our little special needs baby came 2.5 years later and rocked our world in a whole other scary yet beautiful way.  She was diagnosed with CHARGE syndrome shortly after she was born, and not long after that, I decided to become an official, full time stay at home mama!  You can read a little more about her story on my website.  Then our little surprise Charlie came along sooner than "planned" but actually at the perfect time.
I am so thrilled to have joined the doula community and have loved every single minute spent coming alongside mothers and families to empower them, encourage them to give themselves grace, and support them in any way I can during this very special time in their lives.  I love having this opportunity to share my passions, experience, and education with other mamas, new or experienced!  I enjoy exercise, long walks, worship music, cuddling kiddos, playing with home decor, and volunteering at the kid's school.
---
Certifications:
CPD Certification Number: 10-202115, expires October 13, 2024 (EDT)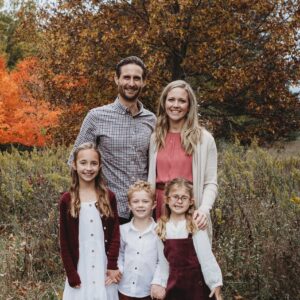 Website:
https://empowered-by-grace.com
Email addresses:
empoweredbygraceSR@gmail.com
sleerogers@gmail.com
(Alternate)
Phone numbers:
586-243-0182 (mobile)
586-243-0182 (home)