The Black Community
Black mamas are dying. Although the murder of George Floyd sparked a universal outcry fanned by the flames of Black Lives Matter, Black lives do not appear to matter. Legacies of slavery, racism, and segregation are aspects of historic injustice reflected in America today. The history of medical racism in the US deeply influences Black women's medical encounters, and these encounters have been detrimental (Davis, 2019). Obstetric racism plays a significant threat to the birthing outcomes of Black women. Davis states neglect, lack of information, dismissiveness, disrespect, and interventions without explanation, permeate their maternal care and coalesce into obstetric racism (Davis, 2019). Black birthing women from all socioeconomic statuses share these experiences in some shape, form, or fashion; many have died at the hands of physicians. Non-expecting Black women to experience racism in the medical setting. I believe some physicians carry a false interpretation of Black women into their practice that was an enculturation of academia and from the history of James Marion Sims, "the father of modern gynecology." Histories of medical experimentation on African Americans shows the profound disregard that the medical profession has displayed for Black lives, treating people as "clinical material." For example, Black patients have been subjected to racially stratified diagnoses resulting in the denial of pain medication, based on the belief that they withstand pain better than other demarcated groups (Davis, 2019).
During a postpartum visit, one of my clients discussed her birth process and experience. We began to pull back the layers of "obstetric racism" coined by Davis, 2019, she had experienced. On more than one occasion, Pitocin was mentioned; after a couple of hours, the doctors began to say she would have to get a cesarean section (C-Section)-this is when she lit a gasket. Then they began to say the baby is too big, that's why he isn't coming down; if you continue to labor like this, we will take you in for an emergency C-section. She later found out from her OB notes, what I call systemic racism on paper, many things documented were false. These are my clients' words, "Shavon, my incoming OB notes reported we discussed a C-section, I was concerned about hemorrhaging and that my baby was big and had shoulder dystocia. Another OB note stated I was aggressive and used foul language." She stated she was trying to figure out why the healthcare providers who came to see her were proceeding with caution when she was in postpartum recovery. While the baby was in the nursery for further screening, her husband overheard the nurses say, "yeah, this is the baby who was registered to come into NICU when mama was admitted, but never came." The attending physician had preconceived biases that my client would not have a successful birth, and the baby would have problems once he got to earthside. Did I mention my client is a PHYSICIAN and birthed at the hospital she works for? She thought her experience would be so much better, but she quickly realized she was just another Black woman giving birth. Thankfully with my support, using their informed consent, using her medical background, and sticking to what she wanted her birthing experience to be, she overcame every obstacle she faced during labor and
birth.
Black Mamas Are Dying
According to the CDC, the maternal mortality rate increased again in 2020, especially among Black and Hispanic women. From 2019 to 2020, the maternal death rate in the US increased from 20.1 to 23.8 per 100,000 live births. Among Black women, the mortality rate from 2019 to 2020 increased from 44.0 to 55.3 per 100,000 live births. Racial disparities widened further in 2020, with the maternal death rate for non-Hispanic Black women now roughly three times that of both non-Hispanic white women and Hispanic women (D'Ambrosio, 2022). Why are Black mamas still dying? They are many contributing factors. To name a few, Black mamas still lack access to quality healthcare, have Whitecoat trauma, experience institutionalized racism, continue to be dismissed and not heard. They experience obstetric hemorrhage, unnecessary medical interventions (ex. Induction and C-section), and stigmatized for having public insurance (state insurance or Medicaid)-then they have the challenge of finding a doctor who accepts such insurance plans. Half of the births in the United States are currently covered by public insurance, which is limited to 60 days postpartum and does not include comprehensive preconception care (Scott et al., 2019). As they intersect with race and class, these barriers continue to limit Black mamas access to quality care during this vulnerable time of their lives. Numerous studies report that African Americans receive low-quality care and differential treatment when accessing
healthcare services, as a result of their racial identity (C. T. Adebayo et al., 2021).
How Can We Address This Endemic?
Keeping Black mamas alive before, during, and after pregnancy needs to be the focus. Working collaboratively with community partners, local and state legislature, and health care providers-doctors and nurses- to develop a framework and strategies to fight this endemic is needed. We must continue pushing legislative leaders to pass bills that focus on Black Maternal Health. Governor Newsom in California passed the Momibus Act (Bill65), which will provide mothers with access to postpartum health, doula services, and more. With this bill being passed, senators will create a committee to investigate pregnancy-related deaths and severe maternal illness. Efforts are being made; some states are moving faster than others. The efforts made and implemented prove that they can help reduce maternal mortality rates when done. Studies have shown that interventions such as wider access to midwifery, group prenatal care, and social and doula support are effective in improving maternal health outcomes (McLemore & D'Efilippo, 2019). As we work within these collaborative groups and we include Black Mamas to connect and learn more about their communities; programs can be designed, implemented, and tested to ensure what has been created Black mamas are benefiting and the outcomes are positive. We must be ethical. To do so, Scott et al. (2019) ethical care of black women in the perinatal, prenatal, postpartum, and preconception periods requires a well-educated and diverse workforce with foundational knowledge of social determinants of health, health disparities, health inequity, and community engagement. Black Mamas Alliance released a paper titled "Setting the Standard for Holistic Care of and for Black Women." Their writing outlines 8 standards of essential competencies that focus on Black women's care. The standards include the following:
Listen to Black women
Recognize the historical experiences and expertise of Black women and families
Provide care through a reproductive justice framework
Disentangle care practices from the racist beliefs in modern medicine
Replace white supremacy and patriarchy with a new care model
Empower all patients with health literacy and autonomy
Empower and invest in paraprofessionals
Recognize that access does not equal quality care.
Black Mamas matter! To keep our focus on keeping Black Mamas alive before, during and after pregnancy; we all must work on Black maternal health and create frameworks to dismantle structural racism, explicit biases, and encultured practices within the health care setting.
References
Davis, D. A. (2019). Obstetric racism: the racial politics of pregnancy, labor, and birthing. Medical Anthropology, 38(7), 560-573.
Adebayo, C. T., Parcell, E. S., Mkandawire-Valhmu, L., & Olukotun, O. (2021). African American Women's maternal healthcare experiences: a Critical Race Theory perspective. Health Communication, 1-12.
Scott, K. A., Britton, L., & McLemore, M. R. (2019). The ethics of perinatal care for black women: dismantling the structural racism in "mother blame" narratives. The Journal of perinatal & neonatal nursing, 33(2), 108-115.
D'Ambrosio. A. (2022, February 23). CDC: 2020 Maternal Deaths Surged Among Black Women—Pregnancy-related death rates continued to trend upward overall. MEDPAGE TODAY. https://www.medpagetoday.com/obgyn/pregnancy/97317
Curry. D. (2017, November 6). Black Mamas Matter: Maternal deaths a 'human rights crisis'. Public Health Newswire. http://publichealthnewswire.org/?p=black-mamas-matter-2017
McLemore. M. & D'Efilippo. V. (2019, May 1). To Prevent Women from Dying in Childbirth, First Stop Blaming Them. Scientific American. https://www.scientificamerican.com/article/to-prevent-women-from-dying-in-childbirth-first-stop-blaming-them/
---
About the Author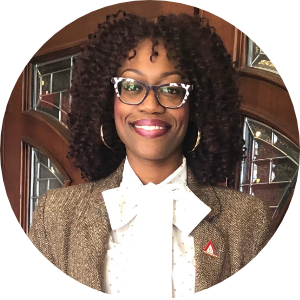 Shavon Johnson, MPH, CLE Founder and CEO of Mom's Treasure Chest. Her passion for "woman and child across the lifespan" lies deep. She believes that all families should be provided the proper education and services to have the birth experience they choose. Shavon holds a Bachelor of Science degree in Biology, she also holds a Masters of Public Health degree with a concentration in Maternal & Child Health. Later in her career she gained training with the Childbirth and Postpartum Professional Association (CAPPA) to become a Certified Lactation Educator, offering lactation education, services, and support. Wanting to offer more to her clients and community, she is certifying as a Certified Labor Doula with CAPPA. Shavon provides education and complete support to the birthing family during pregnancy, labor, birth, and immediately postpartum. She is a Social Worker specializing in transitional aged youth; her role as Program Coordinator for the Maternal & Child Health program she developed offers birthing services, classes, and resources to expectant and parenting young adults. Shavon holds a CAPPA Faculty Member position where she trains individuals for the Certified Lactation Educator program. Shavon is an active and financial member of Delta Sigma Theta Sorority, Inc.; She is also a member of the SANKOFA Inland Empire Birth Workers Collective, the Riverside Coalition for Black Health and Wellness and the Inland Empire Perinatal Mental Health Collaborative. Shavon's goal is to educate her community through health education and promotion.