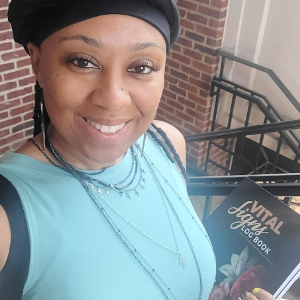 Lovely Day Friends! My name is Kenyetta and I have been working with birthing individuals in Charlotte, NC for 4 years as a Labor Doula. I own Beautiful MOMents Doula Care providing pregnancy, birth and immediate postpartum care, resources, placenta encapsulation and birth pool rentals. I have obtained my Bachelors in Child and Family Studies with a minor in a Psychology and my Masters in Psychology with a specialization in Child and Adolescent Behavior. My education led me to support children and families in group homes, the community and Intensive Care programs. I have also been a daycare teacher and substitute teacher for the Charlotte Mecklenburg School system and Montessori schools. I am also a Apprenticing Midwife who has been providing homebirth support as a Doula and a Assistant for the past 2 years.
As a part of my efforts to build community I am the host of Charlotte's Bi-Monthly Community Baby Showers now established as a Non-profit under The CLT Baby Support Alliance!
I believe every expecting family deserves to have a beautiful birthing experience. I believe that building your support team is a part of that process, as those you choose to share this moment in life with, are vital.
"When a Baby is Born, so is a Mother"