Conference 2020 (September 1-13) Tickets available through Sept 30
September 30
$5 – $200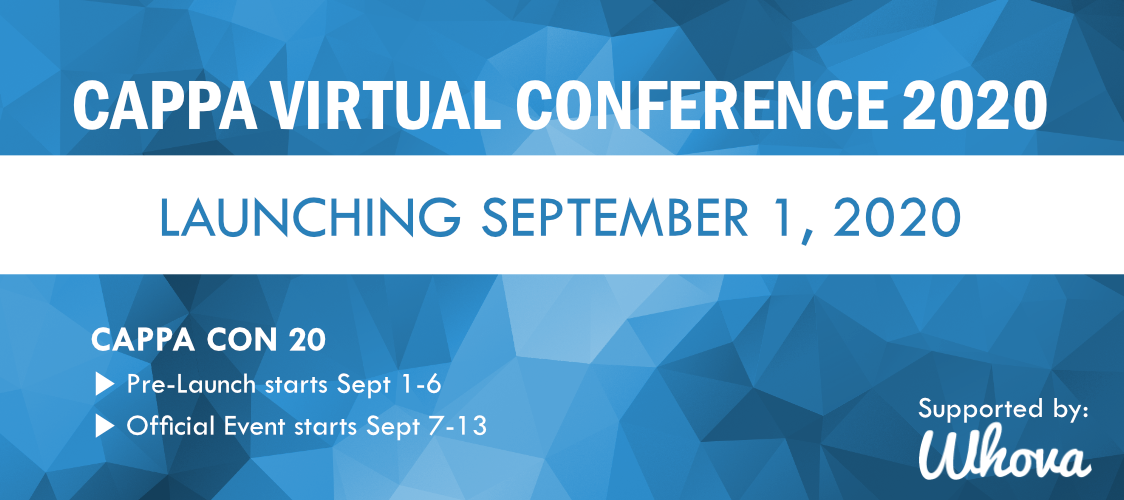 You are invited to join us on September 1-13, 2020 for CAPPA's 1st virtual conference!  This is the place where all our members from across the globe come to create connections, catch up with old friends, have fun, learn and grow!  The event is only two weeks but the content will be available through the month of September!
Please note, that to purchase tickets to this event, you must be logged in!
Nursing Contact Hours
This nursing continuing professional development activity has been approved by the South Carolina Nurses Association, an accredited approver by the American Nurses Credentialing Center's Commission on Accreditation. The sessions that have been approved will be marked as such on the agenda. CAPPA has been approved for 12 nursing CEUs.
Frequently Asked Questions
Q: What is a Virtual Conference?
Due to the COVID-19 Pandemic, we decided to change our in-person conference to a virtual one! Though the event itself is over, you can still register and get access to the conference content throughout the month of September.  (Access ends September 30.)
Q: Are the Conference Sessions live or pre-recorded?
The general and optional conference sessions are pre-recorded by the speakers and released as videos which can be accessed at any time starting September 7, 2020.  If you are looking at the Agenda on the app, please go back to September 7 to find all the sessions!
Q: What are the Live Q&A Discussions?
While this conference is a virtual event, we didn't want our attendees to lose the experience of interacting with the speakers.  We live streamed questions with our speakers from September 11-13.  Sessions have been recorded and can be viewed as many times as needed.
Q: Will CEUs be offered for conference? How many?
Some of our sessions have been approved for Nursing CEUs and some have been approved for L-CERPs.  Not every session qualified for each type of CEU, but every session is approved for CAPPA Contact Hours, which can be used for recertification.
I downloaded Whova, but I can't find the event/I can't get in!
If you just registered, please be aware that all orders are processed manually during business hours.  It may take some time for you to gain access to the event.  Once you have access, search for the event "CAPPA Conference 2020".  There is an invite code that will be emailed to you if you can't get into the event by signing in with the email you registered with.  If you have any other questions, please contact alaythea@cappa.net!
Conference Speaker & Session Info
We have a great lineup of speakers, including many returning favorites, new voices, and top experts in the field! Select the title of the session to learn more about it.
---
Sponsors, Exhibitors, & Supporters

CAPPA is always thankful and appreciative of the support we receive from sponsors and vendors. Choosing to endorse our conference will benefit all who attend and ensure an enriching experience. Interested in being featured in our Conference Manual, website, or Exhibitor Showroom? E-mail marketing@cappa.net if you have any questions.
---
Conference Policies
Please help CAPPA maintain a safe, fun, and professional environment by reading and familiarizing yourself with our Conference policies before registering. If you have any questions or concerns regarding the conference, please let us know! Thank you!
The CAPPA Conference is *free for members.  *There is a required $5.00 convenience fee to register online.
Babies/children are not allowed in conference sessions. Speakers/times may change without notice. There are no refunds for optional sessions, manuals, Social Event tickets, or lunches. No transferring registration to another person. No swapping sessions. When registering for CAPPA events, trainings, and activities you are consenting to be video-graphed and/or photographed. CAPPA does not assume liability for adverse reactions to foods consumed, or items one may come into contact with while eating at any CAPPA Event, Training, or Activity you may attend whether inside or outside of the CAPPA planned events and activities.
---