What's Happening at CAPPA Conference 2022
Press on the scheduled item or the " + " to expand the description.
Schedule and details are subject to change closer to the conference date.
We understand that you may have questions about the event, especially since we are doing things a little differently this year.  Please click on a question or the " + " to expand and see the answer.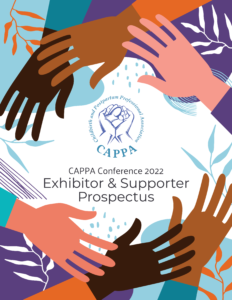 Support CAPPA Conference 2022
If you are a company or organization interested in networking with our members, download our prospectus and fill out the application.  We have plenty of options for exhibiting, sponsorship and advertising.  If you have any questions, please email info@cappa.net.
Please help CAPPA maintain a safe, fun, and professional environment by reading and familiarizing yourself with our Conference policies before registering. If you have any questions or concerns regarding the conference, please let us know! Thank you!
There is a required $10.00 fee to register for CAPPA Members.  This fee includes a conference tote bag, name badge & lanyard, a seat at all General Sessions conducted in Niagara Falls, and early access to online sessions hosted on the CAPPA website.
Speakers/times may change without notice. There are no refunds for sessions, workshops, conference materials/merchandise, Networking Event tickets, etc. No transferring registration to another person. No swapping sessions.
Physical items such as conference totes, swag items, manuals, etc. will not be shipped to attendees under any circumstance.  Attendees are responsible for claiming purchased materials or merchandise on-location at CAPPA Conference 2022.
When registering for CAPPA events, trainings, and activities you are consenting to be video-graphed and/or photographed. CAPPA does not assume liability for adverse reactions to foods consumed, or items one may come into contact with while eating at any CAPPA Event, Training, or Activity you may attend whether inside or outside of the CAPPA planned events and activities.