Zenira Rivera-Barreto
Services Offered:
Breastfeeding Support
,
Postpartum Support
,
Remote Support/Virtual Classes
,
Spanish Translator
,
Teen Support
,
Trained Lactation Educator
Certifications:
Location:
Sacramento California United States
---
My name is Zenira Rivera-Barreto. I have recently completed the CAPPA Certified Lactation Training (05/2021). I have a passion for breastfeeding as I have had four different breastfeeding journeys. I have four boys who have grown up to understand breastfeeding as a natural journey of life. I became interested in becoming a Lactation Educator because I know  mothers have concerns when deciding which feeding method they will follow.  I want to educate mothers/families on all the wonderful benefits of breastfeeding. I want to make sure mothers and families have the proper tools and resources  to feel empowered to have a successful breastfeeding journey.
I truly believe having a support system is key in someone's breastfeeding experiences whether it is a family member, friend or a Lactation Educator. Below are some key points you will receive from my services:
Breastfeeding support
Educational Resources
Tip and Tools
Information on returning back to work and breastfeeding
Extending your breastfeeding journey
Mi nombre es Zenira Rivera-Barreto. He completado el curso para ser educadora certificada en lactancia (CLE) bajo CAPPA (05/2021). Tengo una pasión por la lactancia materna ya que tuve cuatro experiencias diferentes de lactancia materna. Tengo cuatro niños que han crecido para entender la lactancia materna como naturalde la vida. Me interesé en convertime en educadora en lactancia porque sé que las madres tienen preocupaciones al decidir qué método de alimentación seguiran. Quiero educar a las madres / familias sobre todos los maravillosos beneficios de la lactancia materna. Quiero asegurarme de que las madres y las familias tengan herramientas y los recursos adecuados para sentirese empoderadas para tener una experiencia exitosa de latancia.
Realmente creo que tener un sistema de apoyo es clave en las experiencias de amamntamiento de una persona, ya sea un miebro de la familia, un amigo o educadora en lactancia. A continunacion se presentan algunos punto clave que recibira de mis servicios:
Apoyo a la lactancia
Recursos educativos
Sugerencias y herramientas
Informacion sobre el regreso al trabajo y lactancia
Extendiendo su viaje de lactancia materna
---
Certifications: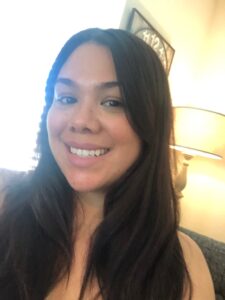 Website:
Email addresses:
zrivera89@yahoo.com
zrivera89@yahoo.com
(Alternate)
Phone numbers:
4087949793 (mobile)
(home)