Vashara Newton-Weber
Contract Doula
Services Offered:
Breastfeeding Support
,
Childbirth Classes
,
Labor Support
,
Lactation Consultant
,
Multiples Support
,
Newborn Care Classes
,
Postpartum Support
,
Remote Support/Virtual Classes
,
Teen Support
,
Trained Childbirth Educator
,
Trained Labor Doula
,
Trained Lactation Educator
,
Trained New Parent Educator
,
Trained Postpartum Doula
,
Waterbirth Support
Certifications:
Certified Labor Doula
Location:
---
Bio For Vashara "Peaches" Newton-Weber
Hello and greetings from me to you. I, first would like to thank you for considering me to be your Doula. Im going to continue with an introduction and provide some basic information regarding my life. 
My name is Vashara, but everyone calls me Peaches. This is my nickname that has carried with me from childbirth actually. Feel free to call me either or. I am a mother of 3 adult children and I have 5 grandchildren. I began my journey as a single mother at the age of 15 years old with my daughter who is now 27 years old. I then had my middle child, a daughter as well, at the age of 18 years old, she is now 24 years old and my youngest child, my only son, was birthed at the age of 23 years old and he is now 19 years old. It was definitely a struggle because honestly I was a child with children and we all had to grow and mature together in a sense. But I wouldn't change it for anything in the world. They are mine and I love them all unconditionally. I obviously have plenty of experience as a young and single mother, I can provide a safe and supportive atmosphere for you as a mother and caretaker. We will go over the options available for active labor options.  Such as meds vs. No meds and breastfeeding options.  I am available and willing to help when ever you are on need. Just call me if you think you need some kind of any kind of support at the prenatal stage birthing stage and post natal stage.  
I have worked with children for many years as well. I have been a remedial counselor, working with at risk youth in the home and school. I have also been an in-home childcare provider since 2011. I truly enjoy my career choices and am now moving forward to be a Doula.  
I unfortunately did not graduate from high school, but did obtain my GED at the age of 17 years old. I did eventually go back to school, after I had my third child, and obtained a Associate in Applied Science Degree for Paralegal Studies. Trust me all things can be done with Faith. I now take care of 4 out of 5 of my grandchildren for childcare and am very interested in getting to know you better as a Doula. 
I truly wish I would have had a Doula with all 3 of my childbirthing experiences and look forward to assisting you with your needs before, during and after your childbirth.
---
Certifications:
CLD Certification Number: PR7-202303, expires July 17, 2024 (EDT)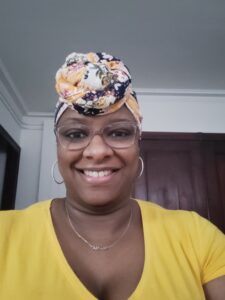 Website:
Email addresses:
vasharaweber@gmail.com
ms.vslovingcare@gmail.com
(Alternate)
Phone numbers:
5157184217 (mobile)
(home)