Michelle Clark
Postpartum Doula
Services Offered:
Postpartum Support
,
Trained Postpartum Doula
Certifications:
Certified Postpartum Doula
Location:
Nashville Tennessee United States
---
Hello! My name is Michelle Clark, I live in, Nashville, TN.  I am a Certified Postpartum Doula since, January 2020.  I chose this field after transitioning out of 10 years in the fitness industry.  I love being a supportive role in a new family's precious beginnings.  Please feel free to reach out.  My availability varies, but does include overnights and weekends as well.
---
Certifications:
CPD Certification Number: 1-202008, expires January 23, 2023 (EST)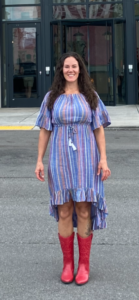 Website:
Email addresses:
michelle.clark@me.com
michelle.clark@me.com
(Alternate)
Phone numbers:
5153338921 (mobile)
5153338921 (home)