Michelle Snyder Smith
Registered Nurse
Services Offered:
Breastfeeding Support
,
CPR Classes
,
Childbirth Classes
,
Newborn Care Classes
,
Postpartum Support
,
Teen Support
,
Trained Childbirth Educator
Certifications:
Certified Childbirth Educator
Location:
LaGrange Georgia United States
---
I am a certified Safe Sitter, BLS and Heartsaver instructor. I, also hold a certification in Neonatal Resuscitation and STABLE. All of this in saying that I truly have a passion for Maternal Infant services. This year marks my 29th year in neonatal nursing. Several years ago, I began teaching childbirth and newborn classes. I received my CAPPA certification in October 2022. My first delivery with my daughter, was very traumatic. I did not work in this field at the time, so I thought I was just being "wimpy". I went in for a delivery that I totally was not prepared for. I had no knowledge of what was to happen, the decisions I would/should get to make, or the support I should expect. The nurses were extremely busy and only came in to check me and then leave. My husband was just as clueless and scared as I. They would say I needed this or that and I just accepted it. After pushing for almost 4 hours, I had a natural, 4th degree, forcep delivery. My second delivery was so much better. I still had not even heard of taking childbirth classes, however I did work in the nursery at the time and I had learned a great deal.. My third delivery ended with a c/s. I can say I have had experience in the different types of deliveries, trouble with breastfeeding my third child and the feelings of disappointment associated with feeling like a failure, and severe postpartum depression. With education, I would have had a better labor and delivery experience. I would have felt more comfortable in taking care of myself and my newborn postpartum. My husband would have benefited for knowing how to better support me. We, as a couple, would have known that we could/should make some decisions on our own and felt more comfortable. With knowledge, I could have sought help for my postpartum depression and not felt the stipulation associated with it. I would have better bonded with my third child without my depression. That is one reason I started teaching these classes. I want couples to feel empowered and knowledgeable. With less anxiety, hopefully, they will have a good birth and postpartum experience.
---
Certifications:
CCCE Certification Number: 10-202204, expires October 11, 2025 (EST)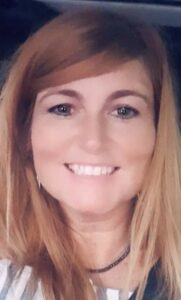 Website:
Email addresses:
michelle.smith@wellstar.org
michelle92472@yahoo.com
(Alternate)
Phone numbers:
7066162247 (mobile)
(home)