Katie Jarratt
Certified Postpartum Doula, RN, BSN
Services Offered:
Breastfeeding Support
,
Infant Massage
,
Multiples Support
,
Postpartum Support
,
Trained Postpartum Doula
Certifications:
Certified Postpartum Doula
Location:
Duluth GA Gwinnett
---
Adding a new baby to the family is one of the most beautiful yet overwhelming life transitions we can experience. Becoming a parent for the first time or the fourth time can bring unexpected challenges. Many parents navigate the first days and weeks after birth alone without much support or guidance.  I am here to help and support your entire family on this journey! 
I am a certified CAPPA Postpartum Doula with 12 years of experience as a Mother/Baby and Pediatric RN. My passion has always been caring for moms and newborns and helping families adjust during this special season of life. I decided to shift roles from RN work to postpartum doula work so that I could be more fully present with families and provide them with the personalized care and support that is so important during this season of life. I often felt limited in providing this kind of care as an RN, and I am so excited that I now have the ability to provide this important support to families as a postpartum doula. I am a mother to two school aged children, so I know firsthand how beautiful yet challenging the postpartum period can be. My professional background along with my personal experience as a mother have given me valuable knowledge, insight, and understanding into this specialized work. I am honored to serve families and help them adjust to life at home with a newborn, whether it is their first baby or your fourth. Please contact me if I can be of service to your family!
– Katie
---
Certifications:
CPD Certification Number: 10-202116, expires October 13, 2024 (EST)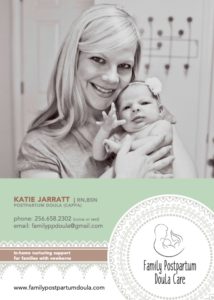 Website:
https://www.familypostpartumdoula.com/
Email addresses:
familyppdoula@gmail.com
jarrattkl@gmail.com
(Alternate)
Phone numbers:
2566582302 (mobile)
(home)