Kat Head
Services Offered:
Breastfeeding Support
,
Infant Massage
,
Lactation Consultant
,
Multiples Support
,
Postpartum Support
,
Remote Support/Virtual Classes
,
Teen Support
,
Trained Postpartum Doula
Certifications:
Certified Postpartum Doula
Location:
Rochester NY United States
---
Hello! I'm Kat Head. I live and work in Rochester, NY. I am certified a Postpartum Doula and a Certified Lactation Counselor.
I became passionate about the postpartum period after having my older daughter in October 2017. My second daughter was born in November of 2020, and my enthusiasm for all things post-birth has only grown and deepened.  I am very interested in everything about the new parent experience – newborn behavior, new emotions and the nitty-gritty of daily life. In my work as a CLC, I enjoy informing and empowering breastfeeding parents. With all things postpartum, there is so much information out there that it can be tough to know what to do or where to start. I feel strongly about providing evidence-based information and supporting whatever decision families come to. I am truly here to assist and celebrate my clients in becoming the kinds of parents they want to be.
In other areas of life, I am interested in house plants, bullet journaling, respectful/peaceful parenting, Buddhism, being outside, collage art and mindfulness. I also work as an American Sign Language interpreter and really enjoy working with members of the Deaf community 🙂

---
Certifications:
CPD Certification Number: 9-202001, expires September 2, 2023 (EST)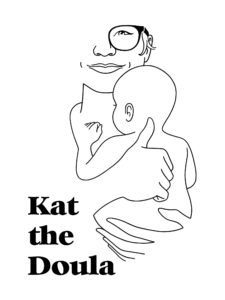 Website:
https://www.katthedoula.com/
Email addresses:
katthedoula@gmail.com
(Alternate)
Phone numbers:
(mobile)
(home)