Jasmine Mason
Full Spectrum Doula, CBE, LE, Placenta Encapsulator
Services Offered:
Birth Photography
,
Childbirth Classes
,
Labor Support
,
Lactation Consultant
,
Postpartum Support
,
Trained Childbirth Educator
,
Trained Labor Doula
,
Trained Lactation Educator
,
Trained Postpartum Doula
Certifications:
Location:
Hyattsville Maryland USA
---
Jasmine  is the founder of J.Mason Foundation LLC, created to assist new & expecting families in need with baby care packages. Jasmine created J.Mason Foundation in November 2018, after experiencing a second miscarriage.
After medical disparities after miscarriage, Jasmine decided to become a birth doula. Jasmine is a certified Full Spectrum Doula, Fertility Advocate, Pregnancy & Infant Loss (PAIL) advocate, Certified Placenta Encapsulation Specialist, Certified Childbirth/Newborn Photographer, Certified Childbirth Educator, Lactation Educator.
---
Certifications: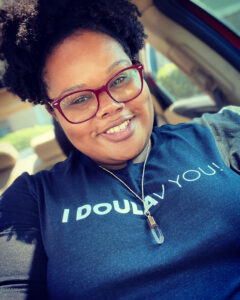 Website:
https://www.jmasonfoundation.org
Email addresses:
Jmasonfoundation@gmail.com
(Alternate)
Phone numbers:
804-993-4598 (mobile)
(home)