Danna Myers Hook
CLC, CLE, CPD
Services Offered:
Breastfeeding Support
,
Postpartum Support
,
Trained Lactation Educator
,
Trained Postpartum Doula
Certifications:
Certified Lactation Educator™ CLE®
,
Certified Postpartum Doula
Location:
Reno NV United States
---
Hi I'm Danna (pronounced like Anna with a D)! I have been supporting new parents in their lactation journeys for 11 years. I am a La Leche League Leader, a Certified Lactation Counselor, a Certified Lactation Educator, and a Certified Postpartum Doula. I am a mom of four and love living at the foot of the Sierra Nevada Mountains with all the outdoor adventures they provide, unless it is snowing…then I'm cozy inside with my tea and a book or knitting project.
Often we need a little support and information when learning to feed our babies, I love that I can provide that in a non-medical situation for families who need it. Most of my care is in your home so you don't have to leave your nest in the first weeks. But I do also volunteer for two local and free lactation support groups; monthly at LLL of Reno meetings & weekly at Milk Makers Circle at Biggest Little Baby.
---
Certifications:
CPD Certification Number: 10-202126, expires October 27, 2024 (EST)
CLE Certification Number: 8-201915, expires August 30, 2025 (EST)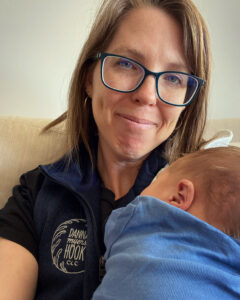 Website:
http://www.lactationdanna.com
Email addresses:
lactationdanna@gmail.com
(Alternate)
Phone numbers:
775-379-5343 (mobile)
(home)