Courtney Caranguian
Services Offered:
Breastfeeding Support
,
Childbirth Classes
,
Labor Support
,
Postpartum Support
,
Remote Support/Virtual Classes
,
Trained Labor Doula
,
Trained Lactation Educator
,
Trained Postpartum Doula
Certifications:
Certified Labor Doula
Location:
---
Aloha my name is Courtney. I am Native Hawaiian, Korean, Chinese and White. I have been a doula for the past six years (est. 2017). I support people in birth and postpartum. I have supported all types of births from home to cesareans. My own births have helped shape me; birth 1 was an induction, birth 2 a natural hospital birth and a homebirth for baby 3. I believe in bodily autonomy and informed dissent.
I am a Lamaze Certified Childbirth Educator. I believe education is key to being informed about your choices, teaching you to be an advocate for yourself but furthermore teaching your partner or support people how to speak up too.
Society has numbed much of our gut feelings but is important to be reconnected with your na`au and follow what it says.
I prefer supporting homebirths at this moment as I need to take my youngest with me.
---
Certifications:
CLD Certification Number: 8-202310, expires August 23, 2026 (EDT)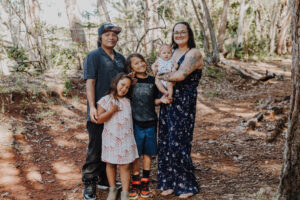 Website:
Email addresses:
c.caranguian@hotmail.com
courtneyc@hmhb-hawaii.org
(Alternate)
Phone numbers:
8083674668 (mobile)
(home)