CHARULATHA JAI
IBCLC, CCBE
Services Offered:
Breastfeeding Support
,
Childbirth Classes
,
Infant Massage
,
Labor Support
,
Lactation Consultant
,
Newborn Care Classes
,
Postpartum Support
,
Trained Childbirth Educator
,
Trained Lactation Educator
Certifications:
Certified Childbirth Educator
Location:
Chennai Tamilnadu India
---
Hello!
First of all Thankyou so much for giving this oppurtunity to introduce myself.
This is charulatha Jai. I am a IBCLC (i am an international board certified Lactation consultant), Infant and young child feeding management specialist, childbirth educator and also am a student Psychotherapist.
Currently practising as a lactation consultant in Kanchi kamakoti childstrust hospital,
Former visiting consultant in MGM Healthcare
Active visiting consultant in few maternal and childcare hospitals in chennai
Teaching faculty in Nectar intergrated health services
Guest lecturer for Nutrition & Nursing students in Tamilnadu and pondicherry
One of the panelist in breasfeeding conferences & women empowerment activist
also i run my own brand sahasra wellness centre in chennai saidapet
i am very much passionate about working with women and children inclusive of mental health.
looking forward to learn more.
Thanks
Charulatha jai
---
Certifications:
CCCE Certification Number: 11-201804, expires May 16, 2025 (EDT)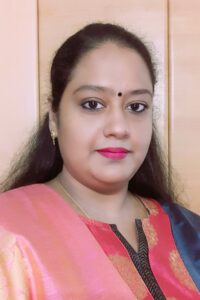 Website:
Email addresses:
charulathajai@gmail.com
drjdr@rediffmail.com
(Alternate)
Phone numbers:
9841734450 (mobile)
7010713994 (home)