Cassie Williams
Postpartum Doula, Certified Newborn Care Specialist, New Parent Educator
Services Offered:
Breastfeeding Support
,
Infant Massage
,
Multiples Support
,
Newborn Care Classes
,
Postpartum Support
,
Remote Support/Virtual Classes
,
Trained New Parent Educator
,
Trained Postpartum Doula
Certifications:
Certified New Parent Educator
Location:
Anaheim CA USA
---
As a Postpartum Doula, Certified Newborn Care Specialist, and New Parent Educator, my focus is on education for parents before baby's arrival, and in-home overnight newborn support for parents once their baby arrives. My goal is to help build parents' confidence as they begin their journey in parenthood. Providing education along with emotional and physical support to families expecting singletons and twins, parents greatly benefit from the guidance and rest they receive with overnight support.
Working with growing families with various family dynamics, from first-time parents, seasoned parents of 3+ children, single parents, LGBTQ, etc., each family is guaranteed to be met with top notch care and compassion. In addition to overnight support, many clients benefit from the client resources of the well trained and experienced group of colleagues that I refer to, as needed.
Let Cassie Williams with Top Notch Newborn Care empower you to prepare and care for your baby in the best way possible while getting the rest you deserve. Let's get started!
---
Certifications:
CNPE Certification Number: 9-202111, expires September 15, 2024 (EDT)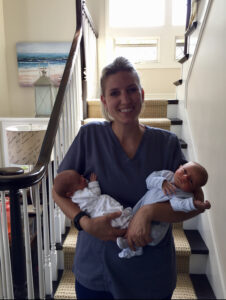 Website:
https://www.topnotchnewborncare.com
Email addresses:
hello@topnotchnewborncare.com
(Alternate)
Phone numbers:
9515361278 (mobile)
(home)