Carleigh Joseph
Labor Doula, Postpartum Doula, Mentor
Services Offered:
Antepartum doula
,
Breastfeeding Support
,
Childbirth Classes
,
Labor Support
,
Newborn Care Classes
,
Postpartum Support
,
Remote Support/Virtual Classes
,
Teen Support
,
Trained Labor Doula
,
Trained Postpartum Doula
Certifications:
Location:
Houston Texas US
---
Trained labor and postpartum doula working towards certification as I seek to make a positive impact in the world of birth work. I desire to support, educate and inspire every parent to discover their nature-destined ability to care for their newest family addition.
Working in the medical profession for over a decade, I have searched for the specialty that most aligned with my passions and purpose. After spending 6 years with the newborn and pediatric population, I journeyed to Labor and Delivery. It was here that I was reminded of my piqued interest in birthing since the age of 8, when I would watch birthing shows on television and write down the definitions I came across. I initially aspired to become a doula at the age of 18; however, I figured I would have difficulty meeting new mothers. Now at the age of 30, I am a mother and have gained valuable experience, knowledge and understanding. I am currently seeking an advanced degree in Social Work, and the bridge between the nursing floor and my social studies has led me to embark into the world birth work to share knowledge and make a difference in my community and beyond. I desire to educate new parents, support mothers and families through labor, mentor and counsel young mothers, as well as implement positive practices that can stimulate changes in the negative statistics reported concerning birthing and postpartum depression. My work in Labor and Delivery has allowed me to closely identify several gaps in meeting essential needs for families. Assistance that may be needed during an unexpected antepartum admission, surprising premature delivery, extended postpartum accommodation or a NICU stay can not simply be cared for by the hospital staff. It is here that a doula can certainly 'stand in the gap' and support families in addition to the time-honored educational, childbirth and postpartum care supportive doula roles. I am passionately thrilled to have the opportunity to connect with people throughout the community: mothers, parents, and families -both traditional and non-traditional.
---
Certifications: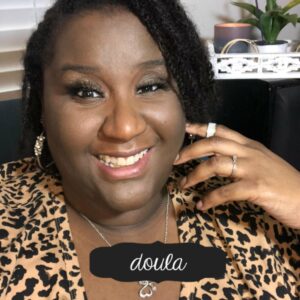 Website:
https://www.facebook.com/manamamadoula
Email addresses:
manamamadoula@gmail.com
mscrowned09@yahoo.com
(Alternate)
Phone numbers:
832-597-2212 (mobile)
(home)