Alykhan Sumar
Services Offered:
Childbirth Classes
,
Trained Labor Doula
Certifications:
Location:
edmonton alberta canada
---
Alykhan Sumar (he/him) is a recent addition to the Full Circle Birth Collective doula team.
Born in Calgary, Alykhan grew up in a tight knit family with plenty of community engagement.
Those early experiences helped him to appreciate the value of supportive spaces and the need we all have for people in our lives who can hold our hands through our formative moments.His journey to become a doula started in 2015 with the birth of his first child. Watching his partner labour for 65 hours and seeing all the challenges she had to face was a painful experience. ​They both struggled to work through the trauma of that birth, while managing postpartum issues and raising a child. That experience ultimately led to having Sonya Duffee, the founder of Full Circle Birth Collective, as the doula for the birth of their second child. The clear contrast between the first experience of birth and the second made it even more apparent how critical doula support can be, not only on the experience of the birth but also on the postpartum period and the lifelong relationship with one is able to build with their child(ren).
The start of the pandemic in 2020 forced Alykhan to take a step back from his position as a Business Analyst and Project Manager. Realizing that prioritizing family and community was what had always sustained him, he decided that becoming Western Canada's only cisgendered male doula would be a better use of his time and skills.
​As a doula, his focus is on supporting families, especially non-birthing male-identifying partners, navigate the joys and challenges of these life-changing moments. He hopes to help folx in ways that are grounded in community and culture, creating families that are compassionate, loving, and joyful.
---
Certifications: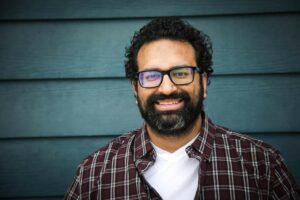 Website:
Email addresses:
pyarparenthood@gmail.com
alykhan.sumar@gmail.com
(Alternate)
Phone numbers:
7809912596 (mobile)
(home)